Winch is the heart-point of the elevator. Its operation influences vibroacoustic features of the elevator.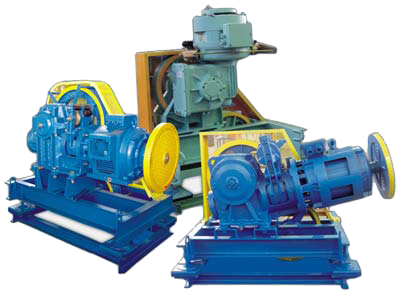 Beginning with the moment of its founding JSC "Mogilevliftmash" specializes at manufacturing of the winches not only for its own purposes but for other elevator factories as well. Manufacture of high-quality winches is provided with modern equipment of domestic and import manufacture, including thread-grinding machine by Buderus company (made in Germany). To improve solidness of operating surface of worm shaft its laser processing is carried out.
The winch manufactured by JSC "Mogilevliftmash" provides high comfort, reliability and durability of the elevator operation.
Elevator winches performance attributes.

JSC "Mogilevliftmash" mastered manufacture of gearless winches series for the elevators with load-capacity of 400, 630 and 1000 kg and motion speed 1,0 and 1,6 m/sec.
The winch is installed directly into the elevator shaft and saves space if compared to traditional winch; it has low weight and is adopted to requirement of contemporary architecture.
Advantages of gearless winches:
- constant magnets create magnetic field without waste of electric energy for magnification of engine magnet system.
- starting current is twice reduced if compared to gear winch; it contributes to reducing of heat loss within supply lines of electric grid;
- if compared to reductor unit drive, usage of gearless drive based on synchronous engine with constant magnets permits reducing total consumption of the elevator electric energy at 30%;
- gearless drive at constant magnets does not suppose usage of machine oil and consequently its leakage; thus it reduces expenses for technical maintenance;
- low noise and vibration level provides transportation comfort for the passengers.