Elevator for invalids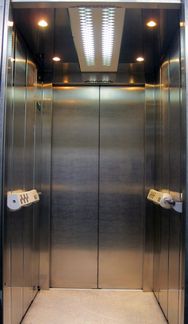 Elevator LP-0610BI
Elevator for invalids conforms the requirements PUBEL PB 10-558-03, GOST22011-95, STB GOST Р 51631-2003, PBEL 2006 RB.
Function
Passenger elevator is designed for the installation in dwelling houses and social housing for the passengers transportation, including passengers in invalid carriages.
Technical feature
Distinctive features:
- Calling post is installed horizontally at the invalid carriage's height, call buttons are done with Braille type;

- width of doorway is 900 mm;
- winch with single speed motor combined with frequency regulator. It helps to provide thе smooth running of lift cabin and the extended precision of stops;
- electric drive and automated mechanisms are done on the basis of microprocessor control station RSUL.
Principle of operation.
Pressing the call button, the lift cabin arrives on the level of the exact stop. Lift doors open automatically.
Passenger in the invalid carriage enters the cabin and presses the button of the floor number at the calling post. Lift doors close automatically, lift begins to move at the azimuth reference, driving smoothly up to the rated speed. Passing the sensor of the necessary floor, lift reduces speed and stops on the level of the exact stop, opening the doors.
The passenger leaves the lift cabin, doors closes, lift cabin stands on the floor, while anybody calls the lift.